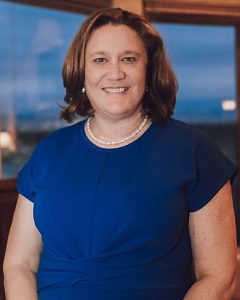 Wende Schwingendorf:
Candidate for Bernalillo County Commission District 4
Wende Schwingendorf has run a spirited campaign to represent District 4 on the Bernalillo County Commission. District 4 stretches along the northern boundary of Bernalillo County. Although a Democrat has never held this seat, Wende and her supporters feel like they have an excellent chance to win in November. Republican Lonnie Talbert has held this seat for eight years. His two terms are up. Wende will face Republican George Walton Benson in the general election.
Wende has attended and spoke at many of the Westside Democrats meetings. She has worked hard to gain our support. Now we need to work hard to make sure she is the first Democrat to represent District 4 on the Bernalillo County Commission.
What motivated you to run for County Commissioner?
In a way, I've been prepping to be in public office my whole life, although I didn't realize it at the time. My mom and dad came from very different backgrounds – while they both are originally from the Midwest, they met at an air show at Kirtland Air Force Base in the '60s. My dad, a Vietnam veteran, was here for specialized Navy training and my mom's stepfather served in the Air Force. My mom traveled all over the world before she graduated from high school, but worked here in ABQ at a local hospital for 37 years. She liked having roots after all the moving around she did as a young person so she always told me to "bloom where I was planted." My dad never traveled outside of northwest Indiana until he served in the military, and he lived many places across the U.S. working as an electrical engineer. When I was trying to choose a career path and was drawn to many different jobs, he told me, "not everyone who wanders is lost." I took both their advice to heart. Like my mom, I stayed here in New Mexico, attending public schools, the University of New Mexico, and now Eastern New Mexico University. My roots run deep in the New Mexico soil. Taking my dad's advice, I followed my heart and plunged into a 26-year career as a journalist, working with nonprofits like the Elev8 Community Schools initiative, and in government service both in Santa Fe and in Bernalillo County. I currently work at a locally owned and operated credit union, where I get to help people gain financial literacy skills and to tell the stories of community partners doing amazing work here in our hometown. My mentor and former boss, Bernalillo County Commissioner Maggie Hart Stebbins, told me about Emerge NM. During my fellowship there in 2019, I learned my education and my diverse work across New Mexico could be advantageous if I wanted to go into public service. I could use all the knowledge and skills I've acquired along the way to positively impact my community.
District 4 has interesting boundaries. How do you balance the needs of the NE Heights with the NW side?
District 4 does have interesting boundaries. If you stand at the top of Sandia Crest, facing to the west and using Paseo del Norte as your guideline, District 4 basically runs along the west side of the Sandias, through the far NE Heights and into the North Valley, then out into our neighborhoods on the West Side. I've lived in Ventana Ranch since 2008, but I grew up near Juan Tabo and Indian School, so I'm familiar with both areas of town. Interestingly, in many conversations I've had with potential voters, I've found that our concerns and needs are very similar. We're all concerned about crime in our communities and the underlying systemic issues that perpetuate them; we believe that our respective parts of the county are rapidly changing and infrastructure (like roads and utilities) and community services (like community centers, senior centers, and youth services) are not keeping with with the demand. We are all very concerned about the direction our nation could go in November. With that in mind, it's very important that Democrats across District 4 band together for this election to ensure that our respective communities receive the services we need, and address the systemic challenges Bernalillo County faces.
What is the history of District 4?
The District 4 seat has never been held by a Democrat, and has never been held by someone who lives on the Westside of the district. In the research I did, only one other woman, Barbara Seward, held the seat in the '90s. She passed away earlier this year. I look forward to breaking these records when I win the seat in November.
Lonnie Talbert has served the district for eight years. What do you see that he did well? Not so well?
An interesting thing I've found during my visits with fellow District 4 residents is that many didn't know the roles and responsibilities of a County Commissioner. So it's been really great to have open, honest conversations about the county's Behavioral Health Initiative, the Metropolitan Detention Center, University of New Mexico Hospital, and other facilities and projects the county oversees. While I thank Commissioner Talbert for his years of service to our community, I look forward to holding more public forums to hear about the issues important to District 4. During this public health and economic crisis, sharing information and receiving feedback is more important than ever – using all the tools we have at our disposal to stay in touch will be imperative. I also look forward to providing my knowledge as a Westside resident to represent our community fairly and accurately.
What are the major issues facing Bernalillo County? How do you plan on addressing those issues? 
Stabilize our local, small businesses and restore jobs by providing economic assistance; establish/build upon codes and ordinances that support growth and recovery. Ensure the county's Behavioral Health Initiative focuses on a new normal by reassessing and reprioritizing our community's needs considering this economic and public health crisis. Support our children, young people, and families by fully funding the ABQ/BernCo Community Schools initiative and early childhood education programs.
Much of District 4 exists within a 2008 infrastructure, negatively impacting public health, safety, and quality of life. I will reevaluate planning, zoning, and economic development policies and ensure the district's needs are reflected in the county's budget. The county can't shape a great community alone. I'll create strategic partnerships with other elected officials to eliminate duplicative services, and contribute to joint initiatives that benefit those who live and work in District 4.
As we work toward post-virus economic recovery, we must implement sound fiscal policies and incentivize responsible, equitable growth. I will use low- or no-cost tactics like retaining high bond ratings and ensuring departments are working collaboratively under the county's strategic plan. I will also use IRBs and other economic development tools to support local businesses, and to recruit new businesses that practice social responsibility and provide employees an improved quality of life.
How can the Westside Democrats help you to get elected to the Bernalillo County Commission?
Thank you for asking! It has been all of you – the Westside Dems – that have had my back and offered their support for the last 18 months. I was excited and heartened to see that I received 1,000 more votes than all four Republican primary candidates combined. We need help to keep this momentum going – but I also understand that people have differencing comfort levels in reaching out to voters right now, so we need help calling potential voters and helping to tell our story. Financial contributions to the campaign are also very welcomed – my opponent is very well-funded and has put a substantial amount of his personal money into the campaign to win the seat. This is the last seat held by a Republican on the Commission, so the party will not be giving it up without a fight. Also, if you have any friends or family members who live in District 4 that you'd like me to meet, please send me their information! You can sign up to volunteer, to receive campaign updates, and to donate at www.wende4bernco.com. I also have a Facebook page at @Wende4Bernco – please visit and like my page for all the latest campaign information.