Southwest Albuquerque:
A Community Pulling Together to Create Opportunity
An Interview with Senator Linda Lopez
Senator Linda M. Lopez represents the Westgate area of Southwest Albuquerque and the South Valley north of Blake Road in the New Mexico State Senate, and she knows her neighborhood because she's lived there for 25 years.  When she moved to Westgate, the community seemed to her like an island because it was so separate from the rest of the city.  It was a planned community which had areas designated for business, parks, churches, and libraries, everything necessary for a good life.  When she moved there, it was a growing community.  There was an explosion of growth until 2008 and then the financial crisis hit, the economy plunged and the growth stopped.  Since then, Southwest Albuquerque has been trying to catch up.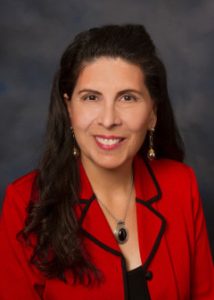 Basic infrastructure is the problem.  They have the roads but need street lights and stoplights.  The schools are full and need improvements/repairs.  Southwest Albuquerque needs the kind of investment which will bring new businesses, services, and families.
Things are improving Senator Lopez said, and this success is due to resilient residents who are not afraid to get involved in helping their community. Cooperation between the Southwest Alliance of Neighborhoods, area city councilors, county commissioners and state representatives, Senator Lopez among them, is paying dividends.   The community has a large new library, the Patrick J. Baca Library at Central and Unser, and a new bus terminal nearby.  The University of New Mexico Health System has built a complex of doctor's offices in the area and a new apartment complex, Nuevo Atrisco, is being built east of the library.  It is scheduled to accept residents next spring.  The next phase is a business development in the same area with a plaza where community events can be held.  All this will bring jobs and new residents to Southwest Albuquerque and it came through a community effort.
The neighborhood has also worked hard to improve the dark streets.  Streets lights have been installed on Coors Boulevard and Unser Boulevard and on part of 98th Street.  Intersections that were without traffic lights now have them.  Much more remains to be done.  Senator Lopez wants all streets lit and all four-way intersections to have traffic lights due to an increase in traffic. More lighted streets have helped with crime issues as having good relationships between the community, the Albuquerque Police Department's Southwest Area Command, and the Bernalillo County Sheriff's Office.
Senator Lopez is concerned about the possible economic results of the coronavirus pandemic and about the spread of the disease, especially because her community is home to many essential frontline workers.  The Senator's questions about the future are many.  What kind of help will the Federal government provide to the state, county, and city to control the spread of coronavirus, to help business and to help the schools?  How much will the state budget have to be cut because of the twin hits of the coronavirus and the downturn in oil prices?  Residents of Southwest Albuquerque were hit hard by the 2008-9 financial crisis and she is worried that the same might occur again.  But she again emphasized that her community is resilient and they will get through this.
What does Senator Lopez want for her community?  First, a safe environment for everyone.  More economic development like that starting and Central and Unser, and in the area of 98th Street and Central.  She wants schools that provide a good and equitable education and are responsible to families, respecting the contribution of our many cultures.  She would like to see more health care facilities located in Southwest Albuquerque.
Senator Lopez also stressed the importance of the South Valley to life in Southwest Albuquerque.  Small farmers in the South Valley provide fresh produce to families, schools, restaurants, and farmer's markets. The Rio Grande provides water via acequias to grow the produce and provides places for families to enjoy the outdoors. Sustaining the water for future use is important as we deal with a drought.  A healthy environment is key to this and she believes we must work to maintain it for the wellbeing of all our families.
Senator Lopez is proud of her community and honored to represent them.  Working together, the residents of Southwest Albuquerque have created opportunities and continue to improve their community.