Climate Change in NM "I Have A Lot of Faith in New Mexico:" Interview with Environmental Reporter Laura Paskus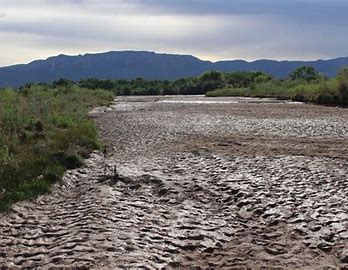 Climate change has been on display this summer in the Albuquerque area.  While the snowpack this year was close to normal, stream flows this spring seemed anemic and now the Rio Grande is a ghost of itself. 
The temperatures this summer have been consistently above normal and the monsoons missing. 
What is happening?  We went to Laura Paskus for answers.
Laura Paskus has been writing about the realities of climate change in New Mexico since 2002.  She moved to New Mexico in 1996 and spent several years working as an archaeologist and tribal consultant throughout the Southwest.  In 2002 she began a career as a reporter, working as an assistant editor of High Country News, a radio producer at KUNM-FM, and a freelancer for a variety of publications including the Santa Fe Reporter, and New Mexico In Depth.  She led the state in reporting on the environment and won multiple awards, including five first-place awards in the New Mexico Press Women's annual communications contest.  Last year, she finished her just-released book, At the Precipice: New Mexico's Changing Climate.
So, what is happening with the New Mexico climate?  First of all, Laura told us the Southwest is warming.  It is three degrees Fahrenheit warmer here than it was a generation ago, and that's about double the global rate of warming.  This has had a profound impact on our water resources.  Warming means drying.  So, even with last winter's normal snowpack, there is less water coming through our river systems.
Second, early in the 20th century New Mexicans decided we wanted to use the Rio Grande for irrigation, so we built dams and sent most of the water through canals and not down the river.  Note when you are out walking that the canals are full while the river itself is little more than a trickle.  Eighty to ninety percent of the Rio Grande's water is used for agriculture; in the Middle Rio Grande that is largely hay and alfalfa fed by inefficient flood irrigation.
So, we are warm and getting warmer and our river is disappearing before our eyes.  What can we do?  Laura believes we need to take a chance and break with long-held water management practices and expectations.  We need to think holistically, as a community, about our water, where it comes from, what it means to us, and how best to use it for the good of all. People have been tricked into thinking environmental issues are partisan.  They are not.  What is happening to our water, our temperatures, our air, matters equally to all of us.  Only community thinking will alter the direction of climate change.
Laura said our community must confront some very difficult issues. We need to reexamine our laws governing water, some of which have been on the books for over 100 years, and we need to think about how water rights, a very difficult subject in New Mexico, are administered. 
We need to talk about agriculture and the ways we move and store water.  We use dams and reservoirs to store water, and canals to move it, based on the decision that surface water was to be used primarily for farming.  We channelized the river to move water downstream faster, which would ameliorate flooding. It would also help ensure that downstream Texas got its rightful share of Rio Grande water.   
Dams and reservoirs were basically built to store water for agricultural use, but have often proved an inefficient method of storage in our 21st century warmer, drier climate.  Laura commented that Elephant Butte Reservoir is a good example.  It's in a warmer area south of Albuquerque and is therefore subject to higher evaporation rates.  Currently Elephant Butte Reservoir is only 5.4% full.  It's imperative, Laura believes, to examine other options for storing our precious water.
Water was so low in the Rio Grande that earlier this year, Albuquerque stopped taking water from the river and began to tap the water we have saved in our aquifer.  We've done a good job of recharging the aquifer over the past several years but Laura commented that it is a limited resource.  More dry years on the Rio Grande will mean more use of the aquifer and with a dry river, we will be unable to divert water to recharge it. 
We have the technology to help us with these issues now, according to Laura.  Through technology, we have learned why we have less water and we know how to mitigate climate change.  It will, however, take societal change to implement the necessary actions.  We need to emphasize the use of public transport, we need to move to renewable energy, and we need to mitigate emission of  greenhouse gases, including methane. We need to curb factory farming of animals and plants, which uses huge amounts of precious resources like water.  And we need to pressure large corporations to act in environmentally responsible ways.
Laura commented that New Mexico has a special burden.  Our state relies heavily on fossil fuel not just as a source of jobs but as a lynchpin of state finances.  Yet, we must break off our reliance on the production of fossil fuels.  It is not an unlimited resource and it is subject to economic pressures which New Mexico cannot control.  The massive drop in oil prices this spring and accompanying drop in the state's oil revenues was a warning that we must not rely on the money and jobs from fossil fuels forever.  In addition, the various technologies used to produce oil are water-intensive, environmentally polluting and dangerous to our health. 
Ending our reliance on this industry is a must and Laura knows it will take courage on our part.  We will have to create new jobs and bring in new industries and while that is happening, we will have to help the communities and the workers affected by this change.  We will have to counter the dire warnings from supporters of the industry with opportunities for change. 
For Laura, this is about New Mexico and New Mexicans.  We must invest in our neighbors and our communities.  We must stand together and do this for all of us.  It's not about us as individuals because this is about avoiding a calamity which will affect all of us.  We have faced another calamity, the coronavirus pandemic, and we made a big choice to change our lives, obey the best science, wear masks, socially distance, and avoid mass gatherings.  We made a decision to protect ourselves and our neighbors.  
What we have done to deal with the coronavirus makes Laura proud of New Mexico and New Mexicans.  New Mexico has demonstrated that rather than being divided we can act together, respect each other and preserve lives. "New Mexicans understand the realities of where they live and they care deeply about this state.  I have a lot of faith in New Mexico."
Laura spoke to the Westside Democrats last year and when asked whether she had anything new to say to them, she responded that last year, she was more pessimistic, upset about the lack of will to confront climate change.  New Mexicans' response to COVID-19 has given her great hope for the future.  She believes New Mexicans are ready and able to respond to the challenge of climate change.