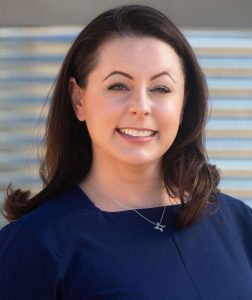 Katy Duhigg defeated Alan Hall in the June 2 Democratic primary. She is running for State Senate to represent District 10. Her opponent is Republican Candace Ruth Gould, the District 10 incumbent. In 2016, Ms. Gould won a very close race, defeating David Simon 10,530 to 10,151.
This is definitely a senate seat which Democrats can win in 2020. Ms. Duhigg is asking Westside Democrats to become active in her campaign.
Please visit www.KatyDuhigg.com to learn more about Katy and see how you can help her become the next State Senator from District 10.
In 2016 Republican Candace Ruth Gould won a very close race, winning by 379 votes out of 20,681 votes cast. How do you plan on flipping this senate seat?
A lot of hard work, tons of phone-banking, texting voters, mailing them, etc. We can use the power of the internet to reach more people. We will be very targeted.
How can Westside Democrats help you to win in November?
Definitely the biggest way is to help with phone-banking. We must ensure that the Democratic-base gets out to vote, applies for an absentee ballot, and returns it. We need more Democrats to show up to ensure victory. We also need help reaching the thousands of "swing voters" who are DTS and soft-Democrats. We need your help getting on the phone and making sure they understand what is at stake in this election.
What will be the major issues in the senate race?
Making sure our families are safe during this pandemic; economic recovery for so many put out of work; social justice and criminal justice reform; supporting our first responders by advocating for community policing while increasing transparency and training; making healthcare more affordable; making our tax system fairer; supporting our educators and children to raise teacher pay, reduce class sizes, and help educators adjust to the new ways of teaching made necessary by the pandemic.
Ms. Gould receives large campaign contributions from oil and gas. Where will your contributions come from and how will this differ from Ms. Gould's contributions.
My donations so far have come from labor unions, like the Carpenters' and Teachers' unions. You'll see that a lot of fellow consumer-protection attorneys who dedicate their careers to fighting for hard-working New Mexicans have donated. My family and friends have stepped up to the plate and invested heavily. And, most importantly small grassroots donations from voters in the district and New Mexicans across the state will make up my contributions.
What votes in the senate by Ms. Gould stand out to you? How would you have voted?
I'm really concerned about Ms. Gould's votes on gutting protections for pre-existing conditions that would make it easier for insurance companies to kick people off their health care. As well, I am concerned about her voting against repealing the archaic abortion bill that would make women and their doctors felons. In general, her votes put big corporations and their profits above hard-working New Mexican families. I would have voted to protect those with pre-existing conditions and support efforts to lower prescription drug costs. I would also vote to repeal the archaic abortion bill to protect women's access to healthcare. As a consumer-protection attorney, I'll work hard – and vote – to protect consumers against bad practices.