Remembering John Lewis in His Own Words
"Every generation leaves behind a legacy. What that legacy will be is determined by the people of that generation. What legacy do you want to leave behind?"

African Americans comprise 3 percent of New Mexico's population but are a significant voice in championing for justice in all areas of our state.


Join us for a very special event featuring African Americans from around the city for a frank discussion on racism and inequality and how that has impacted their experience. Panelists from differing backgrounds will come together to share their vision during this crucial time in our nation's history and what we all need to do to change its course.


Harold Pope, Jr., candidate for State Senate District 23 on the West Side and West Side Dems member, will be creating this event.
DON'T MISS THIS!
Wednesday
July 22 6-7:30 p.m.


Arthur Bell

– Proud Father of 2
Harold Pope Jr.

– Candidate for NM SD 23
Sonya Smith

– Community Organizer
Brandi Stone

– Community Organizer
4th Monday DPBC/WSD Online Training:
The Hard Ask
All Democratic Party of Bernalillo County (DPBC) ward and precinct chairs are invited to meet Tina Worley, our Democratic Party of New Mexico (DPNM) Regional Organizing Director for the Coordinated Campaign 2020. She will be discussing a topic that is tough for most grassroots organizers: "The Hard Ask", at the 4th Monday Training to be held online at 6-7 pm on Monday, July 27.
Learn about the importance of the Hard Ask and how to make an effective Hard Ask:
The Mindset
The Language
The Ask
At this session, you will get the opportunity to practice your Hard Ask. The 4th Monday Training Series is sponsored by the DPBC and the West Side Dems (WSD). Pre-registration is required.
Click this link to receive an email with the Zoom webinar details.


If you have any questions, contact Sue Wolinsky, WSD Training & Development Committee Chair: SueMWolinsky@gmail.com
Wende Schwingendorf has run a spirited campaign to represent District 4 on the Bernalillo County Commission.
No Sign of Stopping:
Dipo Alam and His Paleta Bar Venture
Westside resident Dipo Alam came to the U.S. as a professional soccer player at the age of 17. He never dreamed he would leave soccer and start a business that brings a smile to everyone's face when they walk in the door.
The next meeting of the Southwest Community Policing Council will be held on Wednesday, August 5, at 6 PM.
If you wish to attend, send your name and email contact information.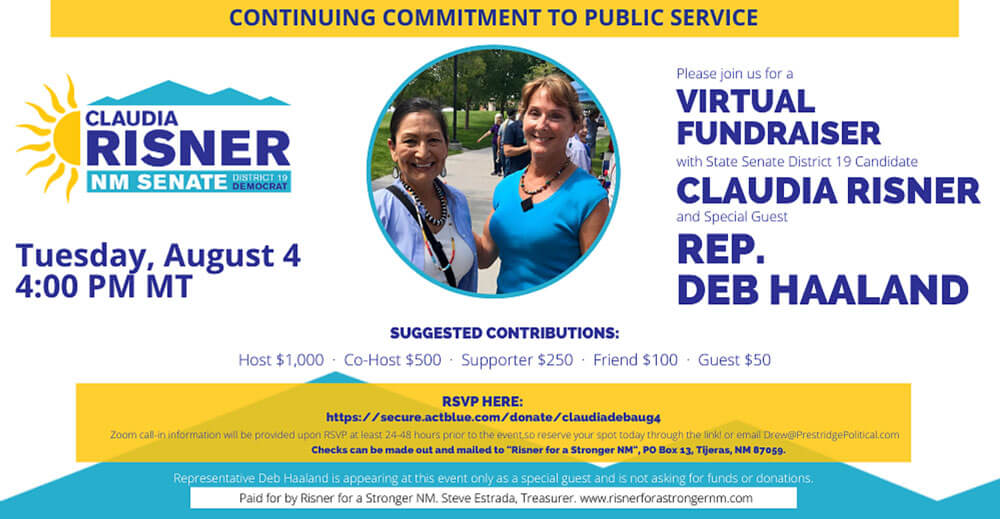 Risner For NM SD 19 Fundraiser featuring Representative Deb Haaland
Join Claudia Risner on Tuesday, Aug 4th at 4:00 PM as she welcomes her special guest speaker, Representative Deb Haaland.
West Side Democrats of Bernalillo County
PO Box 67154
Albuquerque, NM 87193
Dues are $10.00 per calendar year.
You may donate any amount.