Organizing Now for 2020 Elections
Wednesday, January 22
6:30 – 8:00 pm
WSD Business Meeting 6 pm
2020 will be upon us in just a few days. Do you know how YOU will be helping to make the 2020 elections a powerful Blue Success?  Whether you've thought about your role yet or not, join us in January for this great opportunity to start planning your contribution!  
First, we will do a quick review of our WSD 2019 goals and accomplishments. Then, we'll turn our focus to 2020. Together, we will conduct our annual brainstorming session. And, we will explore the tools, networking, and resources that Democrats will need in order to win in November. Your thoughts, ideas and creative suggestions will be what builds the foundation of our activities in the coming year.
BONUS: Invite a friend or a neighbor – who wants to get engaged and make a difference in 2020. Any member who brings a guest will have their name entered into a drawing for a door prize.
Don Newton – Taylor Ranch Community Center
4900 Kachina St NW, Albuquerque, NM 87120  [Map]da
West Side Legislative Town Hall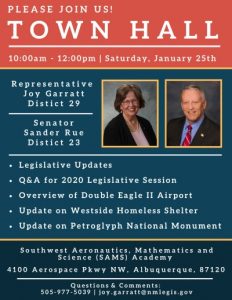 Join Rep. Joy Garratt (D-29) and Sen. Sander Rue (R-23) for a legislative briefing following the first week of the 2020 Legislative Session at SAMS Academy, just south of Double Eagle II Airport off Atrisco Vista NW. In addition to Rep. Garratt and Sen. Rue, CABQ Director of Aviation Nyika Allen will give updates on Double Eagle II airport and a CABQ representative will share progress being made on addressing homelessness (the West Side Shelter is five minutes from SAMS). We are delighted to have new Petroglyphs National Monument Superintendent Nancy Hendricks come as well to discuss the monument. Thank you to SAMS Principal Coreen Carrillo for opening the school for this event!
January 25, 10 am—12 pm
SAMS Academy
4100 Aerospace Parkway NW
Albuquerque, New Mexico 87121
Getting Out the VOTE in 2020!
Starting in January, we will be hosting a fantastic new set of training sessions on the 4th Monday of each month. Each class will focus on one tool you can use to build towards success in 2020.

Monday, January 27, 6 pm.
(Topic and location to be announced.)
Topics included in this series:
Precinct Chair 101
Canvassing
Votebuilder
and more.
*** More details coming soon. ****