West Side Democrat Hero Spotlight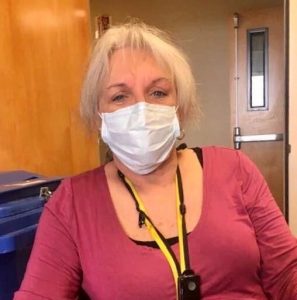 Denise Inight, RN
For most of us, life as we know it has been completely upended due to the COVID-19 outbreak. We are featuring profiles of West Side Democrats to hear how the virus has impacted their routines, and what they do every day –pandemic or not– that embodies the Democratic value of positively influencing their community.
If you have a suggestion for an article on a West Side Democrat who is making a difference, we would love to hear from you. 
Email us at chair@westsidedems.org.
West Side Democrat and Precinct 81 Chair Denise Inight has done her fair share of caring for sick patients in a variety of ways during her 40+ years as a registered nurse (RN).  Currently, she is an RN discharge planner at one of the city's largest hospitals and has some thoughts about how hospitals should be responding in the future –as a result of COVID-19– to keep the community safe.
She is not currently working directly with COVID-19 positive patients who are housed in another unit on another floor at the hospital. Instead, she works with some of the most medically complicated and fragile patients who are hospitalized for a host of reasons, including cardiac issues, chronic illnesses, and detoxing from alcohol. 
Her daily routine has changed immensely as a result of the hospital's safety precautions that were implemented shortly after NM Governor Michelle Lujan Grisham ordered New Mexicans to stay home.   And she thinks some of those precautions should continue indefinitely.
"We need to take our health care more seriously," said Inight.  She pointed out that if we see a significant reduction in infectious diseases overall as a result of these precautions, we should reconsider the level of access that most hospitals allow the general public. "Anyone can walk into a hospital off the street and bring in any type of dangerous bacteria," Inight pointed out.  One of the most significant measures of a hospital's success is having a low rate of hospital-acquired infections, such as staphylococcus (staph), which can be life-threatening.
When asked about her fears around working at a hospital with COVID-19 positive patients, she said: "At first, I was panicking."  Inight is in one of the highest risk age groups for the virus and she also has asthma.  "Once visitors were not allowed and staff began wearing masks, I became less concerned for my own safety."  She added that despite being less fearful, she has not relaxed any routine hygiene behaviors, and still won't wear her work shoes into her home.  "I've also learned how to do things with my elbows."
Inight's role as a discharge planner is to arrange the next steps for medically compromised patients when they leave the hospital.  Inight said that one of the challenges of the pandemic is finding placement for the 80 percent of patients who need step-down care and who aren't quite ready to transition home.  Initially, many of these facilities required two negative COVID-19 tests before they could be transferred. 
"These tests aren't growing on trees, so we complained bitterly to our upper management to get in touch with the management of these facilities to hammer out a better plan and come up with a policy that makes better sense."  Now, she reports, they conduct testing upon request.
The other barrier caused by the pandemic is that many patients who need rehabilitation are fearful to go to another facility when they would rather go home where they can isolate and feel safe from the virus.  "Patients are afraid, but they face even greater risks of falling or suffering another setback if they go home instead of going to a skilled nursing facility."
The complexities of planning care for her patients make Inight's job challenging.  In describing the competing priorities she faces daily, she said, "I feel like I'm juggling 4 raw eggs at the same time all day long." One of the most concerning aspects of her job is the patients who are chronically ill and return to the hospital, sometimes a day later, often due to unmet social needs such as homelessness and/or addiction.  "When people keep coming back and can't live outside of a hospital, something's wrong."
Inight agrees that the U.S. health care system needs a lot of work, and many of those problems have been magnified by the COVID-19 virus.  "We are trying to fit square pegs into round holes." She added that there are many lessons to be learned from other countries whose health care systems are more efficient for providers and less complicated for the patients.